Country Rocks The Farm
GLS Society for Health & Life Presents TIM HICKS & Special guests Lindsay Ell & Dave Sampson. Local opener: Broken Circuit. FIGHTING FOOD INSECURITY IN THE VALLEY
Buy Tickets
OUR MISSION: GLS SOCIETY FOR HEALTH AND LIFE, WHICH IS NAMED AFTER OUR 3 CHILDREN AND MADE UP OF CARING INDIVIDUALS, IS DEDICATED TO GIVING BACK TO OUR COMMUNITIES!
THIS YEAR OUR GOAL IS TO HELP FIGHT FOOD INSECURITY IN SCHOOLS AROUND THE ANNAPOLIS VALLEY!
TOGETHER WE CAN MAKE A DIFFERENCE!
GLSSOCIETYFORHEALTHANDLIFE.CA
Tickets: $69.95 + Fees & Tax
For more information visit: https://countryrocksthefarm.ca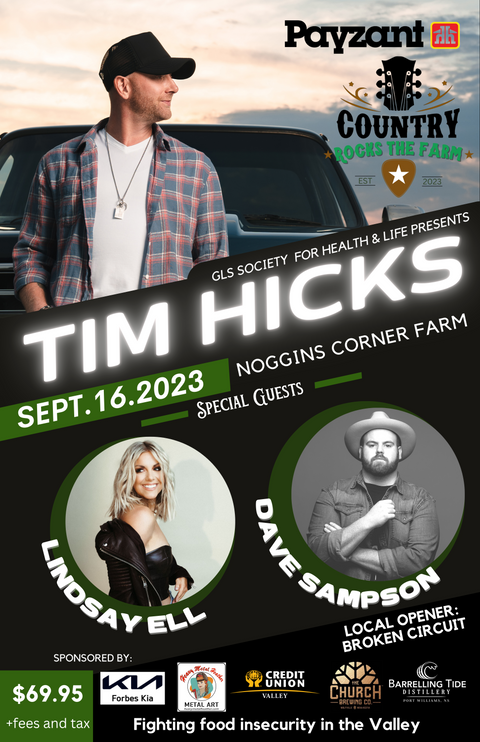 Touchdown Atlantic 2023
Huskies Stadium, Saint Mary's University, Halifax, Nova Scotia
Past Event
Come for the Game, Stay for the Vacation!
The east coast's biggest celebration of football – Touchdown Atlantic – will return to the region on Saturday, July 29 at 4 p.m. ET / 5 p.m. AT as the Saskatchewan Roughriders take on the Toronto Argonauts.
The 2023 edition of the game will be held in Halifax, where Saint Mary's University's Huskies Stadium will be expanded to welcome over 10,000 fans!
This marks the second consecutive year that a Touchdown Atlantic game will be played in the region, after a tremendously successful showing in Wolfville, N.S. in 2022.
In the lead-up to the main event, there will be fun-filled football festivities, pre-game tailgate prior to the game and much more.
TAPPED
Truro Craft Beer Festival. June 3rd 7-10pm At The Raft Eastlink Community Centre 625 Abenaki Road Truro, NS B2N 0G6
Past Event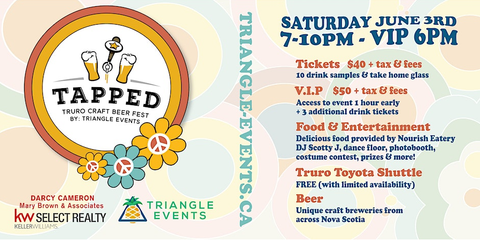 The Fabulously Rich Concert
Church Brewery 329 Main St, Wolfville, CA B4P 1C8
Past event
Date:
Sunday March 26th, 2023