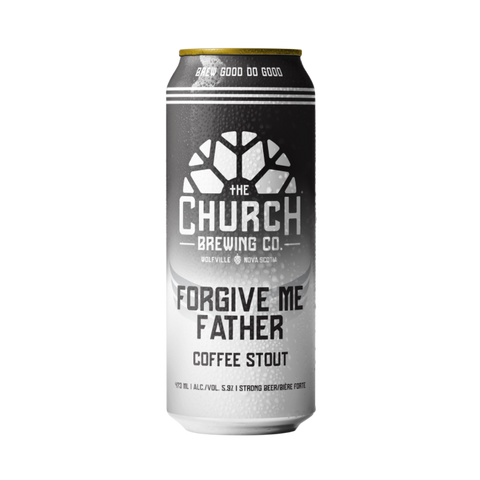 Forgive Me Father Coffee Stout
Coffee Stout
Easy drinking Stout, with cold-steeped local coffee.
HISTORY
The first Church batch not conceived by the Head Brewer AKA the Brew Dad. In November 2021 the brewery team got together and created a sinfully delicious dark beer made with local TAN Columbian coffee. It was so good we decided to re-launch in 2022!The first known use of the word stout for beer, in a document dated 1677 found in the Egerton Manuscripts, referred to its strength. The name porter was first used in 1721 to describe a dark brown beer. Because of the huge popularity of porters, brewers made them in a variety of strengths. The stronger beers, typically 7% or 8% alcohol by volume (ABV), were called "stout porters", so the history and development of stout and porter are intertwined, and the term stout has become firmly associated with dark beer, rather than just strong beer
TASTING NOTES
Forgive Me Father is a rich yet sessionable American Stout. Notes of chocolate, and roasted malt support the Columbian coffee addition. Cold-steeped local TAN coffee adds a balance of fruit tones, and subtle caramel notes.
FOOD PAIRINGS
DESSERTS! Chocolate, fruit, and vanillas all pair with the stout. Wings. Parmesan Chicken Sandwich.
KEY DESCRIPTORS
INGREDIENTS & SPECS
ABV: 5.9%
IBU: 30
Colour: Deep Brown
Clarity: Dark
Malts: Pilsen Malt, Medium Cara, Roasted Barley, Chocolate Malt Flaked Oats.Hops: MagnumYeast: American Ale
Checking local availability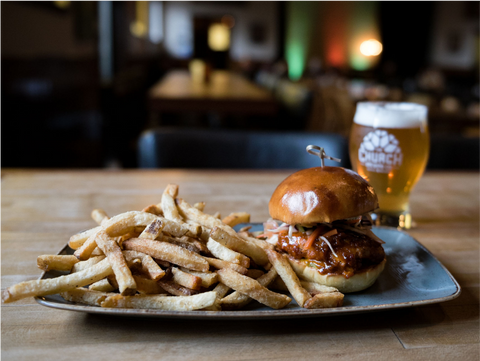 Southern Chicken Sandwich
Pairs best with our Church Blonde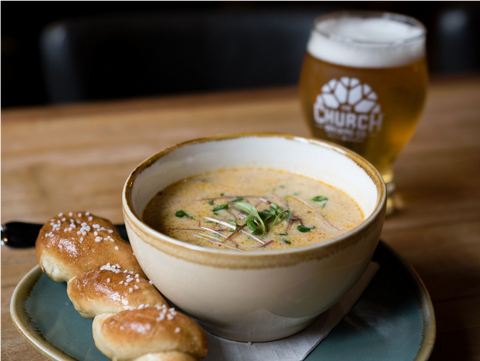 Matriarch Chowder
Pairs best with our Atlantic Lager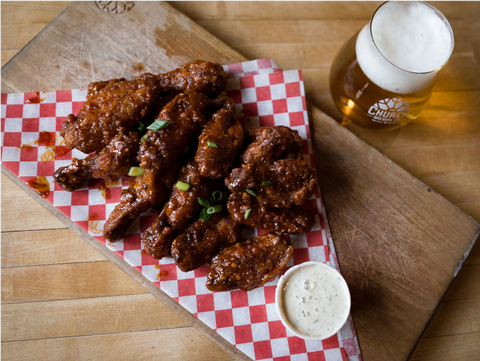 Hot Chicken Wings
Pairs best with our Congregation Pilsner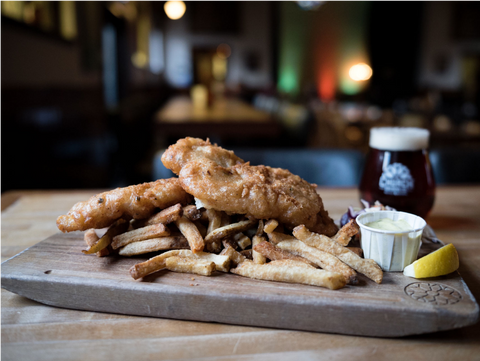 Beer Batter Fish & Chips
Pairs best with our Heart of Gold